Cindy, Steph, and Vincent discuss recent problems with dengue virus vaccine, and a bi-specific monoclonal antibody against Zika virus.
Tagged as: 24 hour clock, adaptive immunity, B cell, circadian, clock gene, immune, immunology, lymph, lymph node, lymphocyte, T cell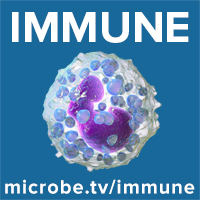 Cindy, Steph, and Vincent reveal that lymphocyte trafficking through lymph nodes and lymph is circadian – it is dependent on the time of day.
Cindy, Steph, and Vincent launch a new podcast, Immune, and talk about how warm temperature protects against atherosclerosis by regulating monocyte migration into the blood.