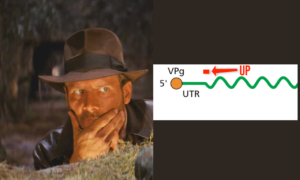 The TWiVsters review isolation of a naturally occurring DNA virus from fruit flies, and the cell-type specific function of a small transmembrane protein encoded in an open reading frame upstream of the enterovirus polyprotein.
Hosts: Vincent Racaniello, Dickson Despommier, Rich Condit, and Kathy Spindler
Click arrow to play
Download TWiV 522 (65 MB .mp3, 107 min)
Subscribe (free): iTunes, Google Podcasts, RSS, email
Become a patron of TWiV!
Links for this episode
Weekly Science Picks 1:32:20
Alan – $40 internationally standard cup of tea
Rich – Mars InSight Mission
Dickson – New York Botanical Garden Train Show (his photos here)
Kathy – Comedy wildlife photo awards finalists
Vincent – Senator Gillibrand calls for funding AFM research and our Crowdsourcing of EV-D68 research
Listener Pick
Fernando – Pathfinders by Felipe Fernández-Armesto; Erebus by Michael Palin
Intro music is by Ronald Jenkees.
Send your virology questions and comments to twiv@microbe.tv