Gabriel Victora joins Immune to review how high affinity antibodies are produced in the germinal centers of secondary lymphoid tissues.
The Immune hosts explain how antibody molecules mature, then discuss the finding in infants of potent neutralizing antibodies against respiratory syncytial virus without somatic hypermutation.
Tagged as: 24 hour clock, adaptive immunity, B cell, circadian, clock gene, immune, immunology, lymph, lymph node, lymphocyte, T cell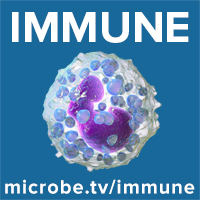 Cindy, Steph, and Vincent reveal that lymphocyte trafficking through lymph nodes and lymph is circadian – it is dependent on the time of day.