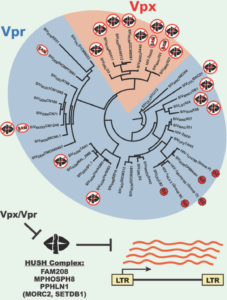 Lonya and Jeremy take the TWiV team beTWIXt primate immunodeficiency virus proteins Vpx and Vpr and how they counteract transcriptional repression of proviruses by the HUSH complex.
Hosts: Vincent Racaniello, Dickson Despommier, Rich Condit, Kathy Spindler, and Brianne Barker
Guests: Leonid Yorkovetskiy and Jeremy Luban
Click arrow to play
Download TWiV 516 (73 MB .mp3, 121 min)
Subscribe (free): iTunes, Google Podcasts, RSS, email
Become a patron of TWiV!
Links for this episode
Weekly Science Picks 1:44:39
Brianne – The Chimp and the River by David Quammen
Rich – James Cook's First Voyage Journal (20 sec Google Earth summary)
Kathy – High resolution Antarctica map NYTimes 46MB Maps  (more info and 43 tb maps)
Dickson – Jellyfish
Jeremy – Pictorial Guide to Living Primates; All The World's Primates
Lonya – Chougui et al. HIV-2/SIV Vpx counters HUSH
Vincent – Research!America
Intro music is by Ronald Jenkees.
Send your virology questions and comments to twiv@microbe.tv