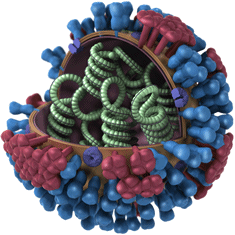 Hosts: Vincent Racaniello, Alan Dove, and Rich Condit
Vincent, Alan, and Rich discuss ten compelling virology stories of 2009.
Click the arrow above to play, or right-click to download TWiV #64 (68 MB .mp3, 94 minutes)
Subscribe (free): iTunes, RSS, email
Ten virology stories of 2009:
Picture book on viruses for kids (Thanks Soraia!)
Weekly Science Picks
Rich Surely You're Joking, Mr. Feynman! by Richard P. Feynman, Ralph Leighton, Edward Hutchings, and Albert R. Hibbs
Alan Spaceweather.com
Vincent The Art and Politics of Science by Harold Varmus
Send your virology questions and comments to twiv@microbe.tv.