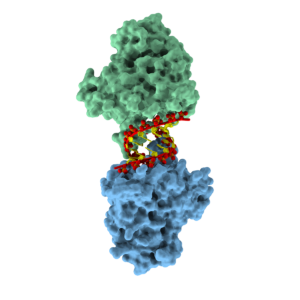 Theodora Hatziioannou joins the TWiV team to discuss a macaque model for AIDS, and how a cell protein that blocks HIV-1 infection interacts with double-stranded RNA.
Hosts: Vincent Racaniello, Dickson Despommier, Alan Dove, Rich Condit, and Kathy Spindler
Guest: Theodora Hatziioannou
Click arrow to play
Download TWiV 465 (53 MB .mp3, 88 min)
Subscribe (free): iTunes, RSS, email
Become a patron of TWiV!
Links for this episode
This episode is brought to you by Blue Apron. Blue Apron is the #1 fresh ingredient and recipe delivery service in the country. Get $30 off your first delivery and FREE SHIPPING by going to blueapron.com/twiv.
This episode is brought to you by the Defense Threat Reduction Agency. Part of the U.S. Department of Defense, the Agency's Chemical and Biological Technologies Department hosts the 2017 Chemical and Biological Defense Science & Technology Conference to exchange information on the latest and most dynamic developments for countering chemical and biological weapons of mass destruction. Find out more at http://www.cbdstconference.com
Weekly Science Picks
Theodora – To Kill A Mockingbird by Harper Lee
Kathy – 25 MILLION Orbeez in a pool
Dickson – Fluid Dynamics of Paint
Rich – The Hitchhiker's Guide to the Galaxy by Douglas Adams
Alan – 30 days at sea: timelapse
Vincent – TWiEVO 24 and Every Time Zone
Listener Picks
Fernando – Lego Women of NASA
Intro music is by Ronald Jenkees.
Send your virology questions and comments to twiv@microbe.tv