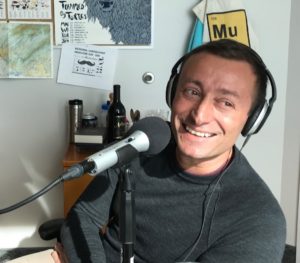 Marco Vignuzzi joins Nels and Vincent to discuss recent work from his laboratory on redirecting RNA virus evolution in sequence space.
Hosts: Nels Elde and Vincent Racaniello
Guest: Marco Vignuzzi
Click arrow to play
Download TWiEVO 24 (57 MB .mp3, 94 min)
Subscribe (free): iTunes, RSS, email
Become a patron of TWiEVO
This episode is brought to you by Blue Apron. Blue Apron is the #1 fresh ingredient and recipe delivery service in the country. Get $30 off your first delivery and free shipping by going to blueapron.com/twie.
Science Picks
Nels – Global Tagging of Pelagic Predators
Vincent – Why has the EPA shifted on toxic chemicals?
Marco – Labs of Siobain Duffy, Seema Lackdawala, Chris Brook
Music on TWiEVO is performed by Trampled by Turtles
Send your evolution questions and comments to twievo@microbe.tv