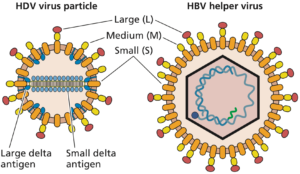 The un-encapsidated TWiV Humans discuss finding hepatitis D virus-related sequences in birds and snakes, and fatal swine acute diarrhoea syndrome caused by a coronavirus of bat origin.
Hosts: Vincent Racaniello, Dickson Despommier, Alan Dove, Rich Condit, and Kathy Spindler
Click arrow to play
Download TWiV 546 (74 MB .mp3, 122 min)
Subscribe (free): iTunes, Google Podcasts, RSS, email
Become a patron of TWiV!
Links for this episode
This episode is sponsored by the 2019 Chem/Bio Defense Science and Technology Conference. Are you working on innovative research that can shape the future of chemical or biological defense? Submit your abstract and present your work to more than 1,500 leaders from government, academia and industry. Visit www.cbdstconference.com for more details.
Weekly Science Picks 1:42:11
Alan – Plots of Data visualization tool
Rich – How to control the brain; Meet UF Physician Kelly Foote, MD
Dickson – Oceanix
Kathy – Iceproofing large structures
Vincent – Neanderthal Man: In Search of Lost Genomes by Svante Paabo

Listener Pick
Johyne – NYTimes Mag Lab (sorry, no link)
Sheena – History of Vaccines by NPR
Intro music is by Ronald Jenkees.
Send your virology questions and comments to twiv@microbe.tv