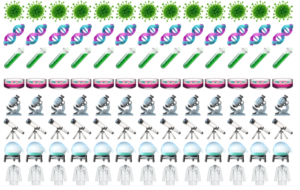 The TWiVidae review universal influenza vaccines that are in clinical trials, and discovery of an atypical parvovirus that causes chronic kidney disease in middle aged, immunocompromised laboratory mice.
Hosts: Vincent Racaniello, Dickson Despommier, Alan Dove, Rich Condit,  Kathy Spindler, and Brianne Barker
Click arrow to play
Download TWiV 520 (70 MB .mp3, 116 min)
Subscribe (free): iTunes, Google Podcasts, RSS, email
Become a patron of TWiV!
Links for this episode
Weekly Science Picks 1:32:54
Brianne – Nebula Genomics: a new start-up offering free genome sequencing (with a catch)
Alan – GRE scores are poor predictor of degree completion
Rich – The Science Mill (video)
Dickson – The 12 cranial nerves (mnemonic)
Kathy – NAS report on Sexual Harassment of Women (free pdf)  Iceberg figure
Vincent – The Tangled Tree by David Quammen and TWiEVO #37
Listener Pick
Mark – Weekly US Map: Influenza Summary
Intro music is by Ronald Jenkees.
Send your virology questions and comments to twiv@microbe.tv