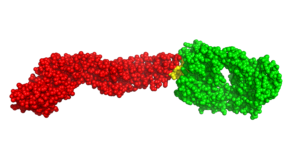 Hosts: Vincent Racaniello, Dickson Despommier, Alan Dove, and Kathy Spindler
Preprint servers, the structure of an antibody bound to Zika virus, blocking Zika virus replication in mosquitoes with Wolbachia, and killing carp in Australia with a herpesvirus are topics of this episode hosted by Vincent, Dickson, Alan, and Kathy.
Click arrow to play
Download TWiV 388 (73 MB .mp3, 101 min)
Subscribe (free): iTunes, RSS, email, Google Play Music
Links for this episode
Timestamps by Jennifer. Thanks!
Image: A single molecule of the Zika virus E glycoprotein (red) bound to a broadly neutralizing antibody (green). The fusion loop on the E protein, which is recognized by the antibody, is shown in yellow.
This episode is sponsored by CuriosityStream. Get two months free when you sign up at curiositystream.com/microbe and use the promo code MICROBE. 0:25, 48:40
Also brought to you by ASV 2016
Weekly Science Picks 1:23:55
Dickson – EarthEnv
Alan – Research funding by lottery
Kathy – Eugenia Cheng Math and Baking
Vincent – Zika Diaries

Listener Picks
Stephen – Virus trading cards
William – Virus trading cards
Norma+Maurice – Virus trading cards
Tom – Virus trading cards
Send your virology questions and comments to twiv@microbe.tv