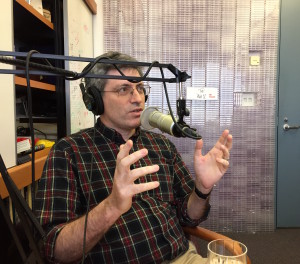 Hosts: Vincent Racaniello, Dickson Despommier, Alan Dove, Rich Condit, and Kathy Spindler
Guest: Carl Zimmer
Carl Zimmer joins the TWiV team to talk about his career in science writing, the real meaning of copy-paste, science publishing, the value of Twitter, preprint servers, his thoughts on science outreach, and much more.
Click arrow to play
Download TWiV 381 (86 MB .mp3, 119 min)
Subscribe (free): iTunes, RSS, email
Links for this episode
This episode is sponsored by ASV 2016 and ASM Agar Art Contest 5:20, 1:45:55
Timestamps by Jennifer. Thanks!
Weekly Science Picks 1:47:15
Carl – Surprising benefit of viral DNA
Alan – Global ship traffic
Dickson – Music with 2000 marbles
Vincent – The whiteboard revolution
Kathy – How to interpret UK and American advisors
Rich – Carina Storrs, science writer

Send your virology questions and comments to twiv@microbe.tv