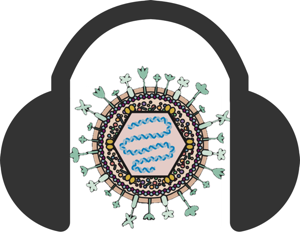 Hosts: Vincent Racaniello, Dickson Despommier, Alan Dove, and Kathy Spindler
Guests: Greg Smith and Mark Fuccio
Greg Smith joins the TWiVirate to reveal how his lab discovered a switch that controls herpesvirus neuroinvasion, and then we visit the week's news about Zika virus.
Click arrow to play
Download TWiV 378 (87 MB .mp3, 119 min)
Subscribe (free): iTunes, RSS, email
Links for this episode
This episode is sponsored by 32nd Clinical Virology Symposium and Microbe Magazine Podcast 4:30, 1:13:00
Timestamps by Jennifer. Thanks!
Weekly Science Picks 1:42:10
Alan – Science byline counting project
Dickson – Bill Nye on climate change
Vincent – Zdziarski's blog of things (Apple's motion to vacate)
Greg – Atlas, the next generation
Kathy – Sources of Chaco wood
Mark – How Dogs Love Us by Gregory Berns
Listener Pick
Bohdan – The real reason for brains
Send your virology questions and comments to twiv@microbe.tv