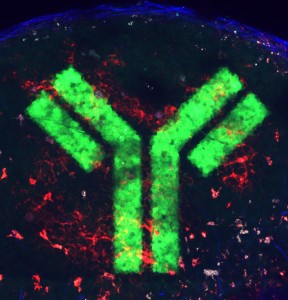 Hosts: Vincent Racaniello, Rich Condit, Alan Dove, and Gabriel Victora
Vincent, Rich, Alan and Gabriel review the production of antibodies by B cells, and how high affinity antibodies are selected in the germinal centers of lymph nodes.
Click the arrow above to play, or right-click to download TWiV 161 (71 MB .mp3, 118 minutes).
Subscribe (free): iTunes, RSS, email
Links for this episode:
Weekly Science Picks
Gabriel – Antibody-based protection against HIV (Nature)
Rich – Contact
Alan – Flu shot dystonia (YouTube)
Vincent – Sciflies and RocketHub
Listener Pick of the Week
Neva – Virus and retrovirus
Ayesha – The Life Scientific (BBC)
Send your virology questions and comments to twiv@microbe.tv.