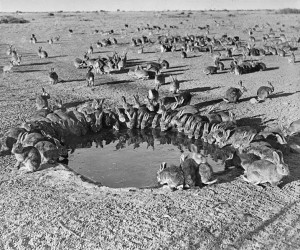 Hosts: Vincent Racaniello, Dickson Despommier, Alan Dove, Rich Condit, and Grant McFadden
Vincent, Dickson, Alan, Rich, and Grant discuss a tanapoxvirus protein that inhibits tumor necrosis factor, purging tumors with myxoma virus, and destruction of the last known stocks of smallpox virus.
Click the arrow above to play, or rightight click to download TWiV #124 (74 MB .mp3, 103 minutes).
Subscribe (free): iTunes, RSS, email
Links for this episode:
Weekly Science Picks
Grant – A Short History of Nearly Everything by Bill Bryson
Dickson – An Inquiry into the Causes and Effects of the Variolae Vaccinae by Edward Jenner
Rich – Selinah (Topsy Foundation) thanks Meghan!
Alan – Draft report (pdf) on WHO's H1N1 response and NY Times summary
Vincent – 10 stunning science visualizations
Send your virology questions and comments to twiv@microbe.tv.