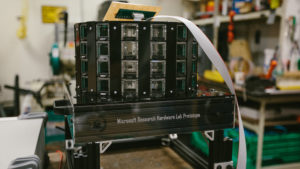 Hosts: Vincent Racaniello, Dickson Despommier, Alan Dove, Rich Condit, and Kathy Spindler
Guests: Ethan Jackson and Jonathan Carlson
Project Premonition, a Microsoft Research project that uses drones to capture mosquitoes and analyze them for pathogens, preprint servers, and three mouse models for Zika virus induced birth defects are the topics of this episode hosted by the TWiumvirate and theirs guests Ethan and Jonathan.
Click arrow to play
Download TWiV 390 (97 MB .mp3, 134 min)
Subscribe (free): iTunes, RSS, email, Google Play Music
Links for this episode
Image: An early prototype of the mosquito trap (image credit).
Timestamps by Jennifer. Thanks!
This episode is sponsored by CuriosityStream. Get two months free when you sign up at curiositystream.com/microbe and use the promo code MICROBE. 0:25, 1:02:00
Also brought to you by ASV 2016 1:56:00
Weekly Science Picks 1:57:25
Dickson – Germany nearly reached 100% renewable power
Alan – Vertical City documentary and Lumino City game
Rich – Errol Morris: 'Demon in the Freezer'
Kathy – Entropic Time YouTube by A Capella Science (watch "the making of")
Vincent – Agar Art contest finalists

Listener Picks
Jennie – SciFi reading (scroll down)
Send your virology questions and comments to twiv@microbe.tv