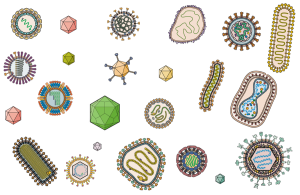 Hosts: Vincent Racaniello, Dickson Despommier, Alan Dove, Rich Condit, and Kathy Spindler
The TWiVniks discuss the structure of a virus that reproduces in an extreme environment, long-term consequences of Ebolavirus infection, and VirScan, a method to identify the different virus infections you have had in your lifetime.
Click arrow to play
Download TWiV 342 (74 MB .mp3, 102 min)
Subscribe (free): iTunes, RSS, email
Links for this episode
Timestamps by Jennifer. Thank you!
Weekly Science Picks 1:26:20
Dickson – Incredible photos
Alan – Alone in a room full of science writers
Kathy – Calico cats and Siamese cats
Rich – Missing link in evolution
Vincent – Podcasts saving NPR and Podcasting blossoms
Listener Pick of the Week
Jenny – What Bill Gates is afraid of
Neva – The Kardashian Index
Send your virology questions and comments (email or mp3 file) to twiv@microbe.tv