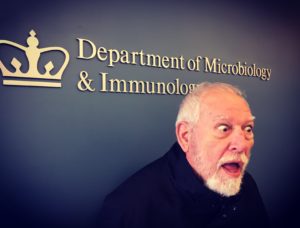 The TWiPsids solve the case of the Guatemalan Positive for Rhinovirus, and reveal how to kill all African trypanosomes with a primate apolipoprotein.
Hosts: Vincent Racaniello, Dickson Despommier, and Daniel Griffin

Click arrow to play
Download TWiP #142 (56 MB .mp3, 93 minutes)
Subscribe (free): iTunes, RSS, email
Become a patron of TWiP.
Links for this episode:
This episode is brought to you by Blue Apron. Blue Apron is the #1 fresh ingredient and recipe delivery service in the country. Get $30 off your first delivery and FREE SHIPPING by going to blueapron.com/twip.
Case Study for TWiP 142
Woman in 50s, immigrant from rural area with limited resources. Admitted to hospital with iron deficient anemia and eosinophilia. In US. Sent for colonoscopy. Note long slender serpiginous motile object, recovered, 4.5 cm long, one end slender, other large and curled but not blunt. Send worm to parasitology lab for identification. What might fit description? Is this usually associated with eosinophilia? What about anemia, is severe or mild? Would this person have come from outside the US to acquire this, or could they have acquired the infection in the US.
Send your case diagnosis, questions and comments to twip@microbe.tv
Music by Ronald Jenkees