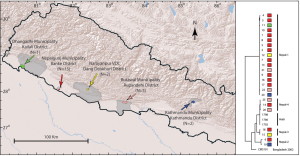 Hosts: Vincent Racaniello, Michael Schmidt and Jo Handelsman
On episode #15 of the podcast This Week in Microbiology, Vincent, Michael and Jo review the number of species on Earth, evidence that the 2010 Haitian cholera outbreak originated in Nepal, and how the gut microbiota influences the immune response to influenza virus infection of the lung.
Download TWiM #15 (43 MB, .mp3, 59 minutes).
Subscribe to TWiM (free) on iTunes, via RSS feed, by email or listen on your mobile device with the Microbeworld app.
Links for this episode:
Send your microbiology questions and comments to twim@microbe.tv