Hannah writes:
Dear TWiV hosts,
This email has nothing to do with virology, but I wanted to respond to Dickson's pick from TWiV 447. I share his fascination with tiny creatures, and his pick immediately brought to mind this Discover Magazine article about the third smallest insect, a beautiful parasitoid wasp. It's smaller than Paramecium caudatum or Amoeba proteus, and yet amazingly, it still has compound eyes and wings! http://blogs.discovermagazine.com/notrocketscience/2011/11/30/how-fairy-wasps-cope-with-being-smaller-than-amoebas/#.WWFPQIiGPIU
Several months ago, I had a chance to play with a scanning electron microscope myself. I wasn't able to produce anything like the images in Dickson's pick, but here are a few of mine, starting with a simple full body shot of an eastern subterranean termite (Reticulitermes flavipes) – I was using the SEM to image something on the cuticles of termites, so almost all the shots I have aside from this one are unfortunately extreme closeups: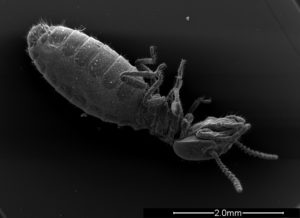 But because I can't resist, here are a couple of images of sad-looking flagellates that just happened to end up stuck to the cuticle. The termite hindgut is chock full of (incredibly interesting) symbiotic flagellates, and turns out termites poop before dying when you fix them in ethanol. I imaged some of the flagellates purely because they look cool: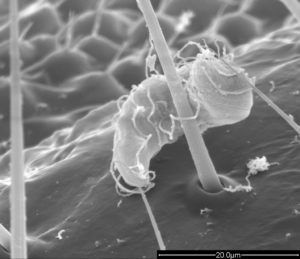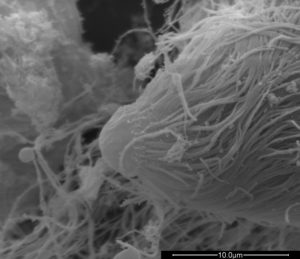 Finally, here's something a bit more artistic, from when I was learning to use the SEM: a Drosophila melanogaster wing joint, followed by an extreme closeup of the eye. Those bumps are called corneal nipples; butterflies/moths have them too, and they're believed to have antireflective properties.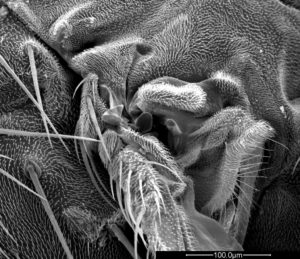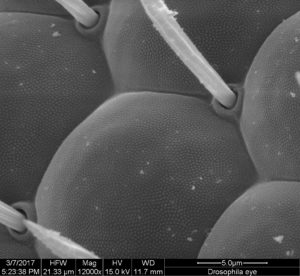 My next email to you will be virus-related, I promise! I love TWiV and your other podcasts, and I always look forward to the next episode.
Cheers,
Hannah
P.S. the weather in Berlin, Germany is 18°C and partly cloudy. We've had a wet, miserable summer.
Erin writes:
Dear TWiV-ers,
I am a big fan of the TWiX podcast family and have been listening for most of my scientific career. I love TWiV in particular and can't thank you all enough for the chance to hear from/about some of my science heroes: David Quammen, Paul Bieniasz, Sara Sawyer, and Vincent Munster, just to name a few. It's great that I can listen to my favorite topic and learn new things while biking to work everyday!
I'm a fourth year graduate student in Michael Emerman's lab at the University of Washington/Fred Hutchinson Cancer Research Center (I actually decided to rotate in his lab thanks to the TWiV episode he did back in 2013!). When listening to the most recent episode (#447), I was excited to hear you discuss the possibility of bringing on a new female virologist to occasionally help with the show. I recently began thinking more seriously about a career in science communication – perhaps in journalism or policy – and have been looking for opportunities to get involved. I can't help but think that a graduate student would be a fun addition to the crew, mainly because it adds another level of diversity to the team. A graduate student would add the different perspective of someone who hasn't been in the field for quite as long and might not think the same way a professor would. In my young career I've had experience studying the evolution of dengue and HIV/SIV, but I'm enthusiastic about nearly any topic I can get my hands on. I'm not sure whether my voice is radio-worthy or not, but I would love to offer my services if you decided to bring in more people.
Regardless of whether you add a new voice or not, I look forward to future episodes and enjoy listening as it evolves!
Best,
Erin
P.S. The weather in Seattle is somewhat depressing for late June. It's partly cloudy and 65F (18C).
—
Erin I. Garcia
Ph.D Candidate
Emerman Lab
Microbiology Program
Fred Hutchinson Cancer Research Center
Kevin writes:
Dear Professors TWiV,
You mentioned on a previous podcast (449) that the lecture format is not dead, and stellar teaching brings new aspiring researchers into the field. Having been one of Prof. Racaniello's students, I agree, but I feel that many science undergrads also have numerous horror stories about awful lecturers who cared little for teaching and only desired to return to the lab. (In a particularly illustrative case, a friend once described a class as "the ballet" because the professor "doesn't really care if the students are learning. He doesn't even care if they're present. His job is to show up at the blackboard at 8:40 and dance.") How do we reconcile the need for good undergraduate science education with the fact that hiring, tenure, and job security are tied to research, not teaching?
I have a listener pick on an equally uplifting topic. I was hoping the hosts could discuss how prevalent the article's situation is, and what advice you have for young scientists who are discouraged by the research funding system.
http://www.sciencemag.org/careers/2017/07/another-tenure-track-scientist-bites-dust?utm_source=sciencemagazine&utm_medium=facebook-text&utm_campaign=ttee-14230
Best,
Kevin Vo
P.S.: Miss Prof. Racaniello's class, and be nice to Dickson.