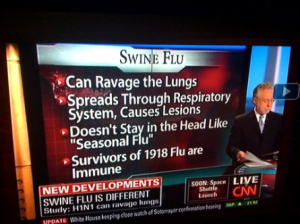 Hosts: Vincent Racaniello, Dick Despommier, Alan Dove, and Jennifer Drahos

Vincent, Dick, Alan, and Jennifer Drahos consider Marburg virus in Egyptian fruit bats, bacterial citrus pathogen found in shipping facility, canine parvovirus in Michigan, Relenza-resistant influenza virus, new HIV from gorillas, and public engagement on H1N1 immunization program.
Click the arrow above to play, or right-click to download TWiV #44 (54 MB .mp3, 78 minutes)
Subscribe (free): iTunes, RSS, email
Links for this episode:
Weekly Science Picks
Jennifer Piled Higher and Deeper (PhD Comics)
Vincent Giant Microbes (thanks Stephen!)
Dick Virology in the 21st Century
Alan Annals of the Former World by John McPhee
Send your virology questions and comments to twiv@microbe.tv.