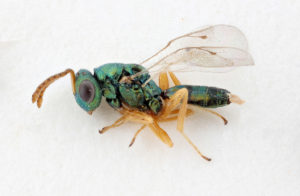 Hosts: Vincent Racaniello, Dickson Despommier, Alan Dove, and Kathy Spindler
The esteemed TWiVumvirate reveal the discovery of a new negative stranded RNA virus of wasps that regulates longevity and sex ratio of its parasitoid host.
Click arrow to play
Download TWiV 434 (64 MB .mp3, 106 min)
Subscribe (free): iTunes, RSS, email
Become a patron of TWiV!
Links for this episode
This episode is brought to you by Blue Apron. Blue Apron is the #1 fresh ingredient and recipe delivery service in the country. See what's on the menu this week and get your first 3 meals free with your first purchase – WITH FREE SHIPPING – by going to blueapron.com/twiv 0:30, 1:00:15
Timestamps by Jennifer. Thanks!
Weekly Science Picks 1:23:40
Alan – The Wrath of Khan from Bug Chicks
Kathy – Boaty McBoatface submarine launching
Dickson – Fierce animal portraits
Vincent – Westworld

Listener Picks
Hannah – Plague, Inc
Stig – John Oliver: Trump vs the truth
Intro music is by Ronald Jenkees.
Send your virology questions and comments to twiv@microbe.tv