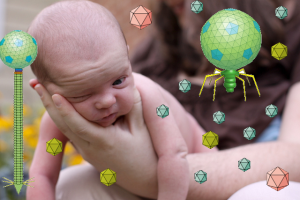 Hosts: Vincent Racaniello, Dickson Despommier, Alan Dove, Rich Condit, and Kathy Spindler
The TWiV team considers the effect of a Leishmaniavirus on the efficacy of drug treatment, and the human fecal virome and microbiome in twins during early infancy.
Click arrow to play
Download TWiV 355 (85 MB .mp3, 118 min)
Subscribe (free): iTunes, RSS, email
Links for this episode
This episode is sponsored by ASMGAP 5:00
Timestamps by Jennifer. Thanks!
Weekly Science Picks 1:42:20
Alan – Vexed Muddler store
Rich – Ivanpah Solar Power Facility
Kathy – The real Kermit
Dickson – Animal Portraits
Vincent – Adventures of the Regatjes, Vaccines by Susan Nasif
Listener Pick of the Week
Jacob – Great Wall of China keeps rabbits out
Send your virology questions and comments to twiv@microbe.tv