Hosts: Vincent Racaniello, Alan Dove, Dick Despommier, and Richard Kessin

Vincent, Alan, Dick, and Richard Kessin talk about Lujo virus, a new arenavirus, influenza, WHO rewriting pandemic rules, adjuvants, and a brief history of microbiology.
Click the arrow above to play, or right-click to download TWiV #35 (57 MB .mp3, 82 minutes)
Subscribe (free): iTunes, RSS, email
Links for this episode:
Lujo virus, a new arenavirus
Is CDC too optimistic about influenza?
WHO to rewrite pandemic rules
Adjuvant at wikipedia
Avery, MacLeod, McCarty 50th anniversary (pdf)

Pasteur's swan-neck flask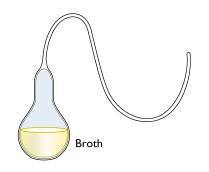 Broth was placed in a flask, boiled, and the neck was heated and drawn out. The broth was open to the air, but remained sterile as long as microbe-containing dust collected in the neck and did not reach the liquid.
Weekly Science Picks

Dick Three papers on origins of infectious diseases (one, two, three)
Rich An Imperfect Lens by Anne Roiphe
Alan Zotero, a FireFox plugin
Vincent e! Science News

Send your virology questions and comments (email or mp3 file) to twiv@microbe.tv