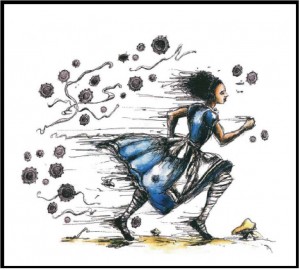 Hosts: Vincent Racaniello, Alan Dove, Rich Condit, and Kathy Spindler
Vincent, Alan, Rich, and Kathy review fatal avian influenza virus in harbor seals, and poxvirus deployment of genomic accordions to counter antiviral defenses.
Click the arrow above to play, or right-click to download TWiV 198 (71 MB .mp3, 99 minutes).
There once was a virus named pox
Whose genome contained a squeeze-box
When placed under pressure
It expanded its measure
Overcoming the new cellular blocks
Subscribe (free): iTunes, RSS, email
Links for this episode:
Weekly Science Picks
Alan – Getting Better: 200 Years of Medicine
Rich – Khan Academy
Kathy – Vi Hart
Vincent – Tweet Keeper
Listener Pick of the Week
Diane – The Way We Fall by Megan Crewe
Stephen – Amateur Micrography
Send your virology questions and comments (email or mp3 file) to twiv@microbe.tv, or call them in to 908-312-0760. You can also post articles that you would like us to discuss at microbeworld.org and tag them with twiv.