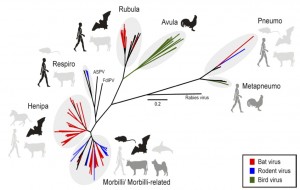 Hosts: Vincent Racaniello, Rich Condit, Alan Dove, Dickson Despommier, and Connor Bamford
Connor joins the TWiV team to discuss bats as hosts for major mammalian paramyxoviruses.
Click the arrow above to play, or right-click to download TWiV 183 (66 MB .mp3, 92 minutes).
Subscribe (free): iTunes, RSS, email
Links for this episode:
Weekly Science Picks
Connor – Microbiology Twitter journal club
Alan – Where the Wild Types Are (YouTube)
Rich – May 14th: Smallpox vaccination day
Dickson – Searching for pore-fection (Science)
Vincent – RRResearch
Listener Pick of the Week
Stephen – Every Major's Terrible (xkcd)
Send your virology questions and comments to twiv@microbe.tv.