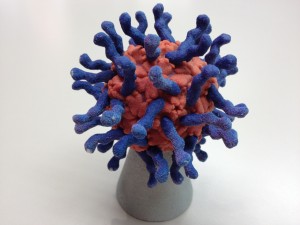 Hosts: Vincent Racaniello, Rich Condit, Alice Telesnitsky, and Kathy Spindler
Vincent and Rich visit the Microbiology and Immunology Department at the University of Michigan Medical School, and speak with Alice and Kathy about their work on HIV genome dimerization, and packaging and pathogenesis of mouse adenovirus.
Model of poliovirus bound to CD155 made by Stefan Taube.
Click the arrow above to play, or right-click to download TWiV 158 (52 MB .mp3, 87 minutes).
Subscribe (free): iTunes, RSS, email
Links for this episode:
Weekly Science Picks
Alice – Banvard's Folly by Paul S. Collins
Kathy – The world at seven billion
Rich – The Princess Bride
Vincent – Center for the history of microbiology
Listener Pick of the Week
Tim – Dead Ends to Somewhere by Richard L. Ward
Don – Ben Goldacre: Battling bad science (TED)
Send your virology questions and comments to twiv@microbe.tv.