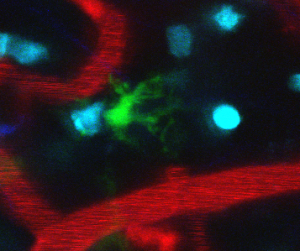 Hosts: Vincent Racaniello, Rich Condit, Alan Dove, Dickson Despommier, Jeremy Luban, and Gabriel Victora
A large TWiV panel remembers Ralph Steinman, and considers a new innate sensor of retroviral capsids.
Photograph of a dendritic cell (green) interacting with T cells (cyan) near a blood vessel by Gabriel Victora.
Click the arrow above to play, or right-click to download TWiV 157 (90 MB .mp3, 125 minutes).
Subscribe (free): iTunes, RSS, email.
Links for this episode:
Weekly Science Picks
Dickson – Eats, Shoots & Leaves by Lynne Truss
Rich – Battlestar Galactica
Alan – Coleman LED quad lantern
Gabriel – A History of Immunology by Arthur M. Silverstein
Jeremy – Principles of Virology by Flint, Enquist, Racaniello, Skalka
Vincent – Principles of Molecular Virology by AJ Cann
Listener Pick of the Week
David – Carl Sagan's Pale Blue Dot (YouTube)
Send your virology questions and comments to twiv@microbe.tv.