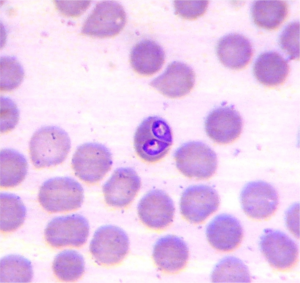 Hosts: Vincent Racaniello, Dickson Despommier, and Daniel Griffin
Guest:  Jonathan Larson
Jonathan from the podcast Arthro-Pod joins the TWiPerati to solve the case of the Peruvian Woman With Inguinal Insect Bite, and discuss warm autoimmune hemolytic anemic that develops after babesiosis.

Click arrow to play
Download TWiP #131 (64 MB .mp3, 106 minutes)
Subscribe (free): iTunes, RSS, email
Become a patron of TWiP.
Links for this episode:
This episode is brought to you by Blue Apron. Blue Apron is the #1 fresh ingredient and recipe delivery service in the country. See what's on the menu this week and get your first 3 meals free with your first purchase – WITH FREE SHIPPING – by going to blueapron.com/twip.
Case Study for TWiP 131
Thailand. 39 yo man reports 7 months of coughing up bright red blood, several times with mucus. Otherwise feels well. Big fan of salted crab som tum. Fisherman, lives with family. Healthy, no past med/surg problems. No meds. On seeing him: afebrile, chest xray abnormal: area of increased opacification. Not a smoker. No toxic habits.
Send your case diagnosis, questions and comments to twip@microbe.tv
Music by Ronald Jenkees