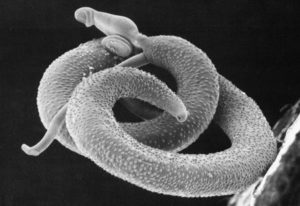 Hosts: Vincent Racaniello and Daniel Griffin
Vincent and Daniel solve the case of the Family with Eosinophilia, and discuss HIV-1 infection and genome integration in the blood fluke Schistosoma mansoni.
Click arrow to play
Download 
TWiP #119
 (53 MB .mp3, 88 minutes)
Subscribe (free): 
iTunes
,  
RSS
, 
email
Become a patron of TWiP.
Links for this episode:
This episode is sponsored by CuriosityStream, a subscription streaming service that offers over 1,400 documentaries and non­fiction series from the world's best filmmakers. Get unlimited access starting at just $2.99 a month, and for our audience, the first two months are completely free if you sign up at curiositystream.com/microbe and use the promo code MICROBE.
This episode is also sponsored by Drobo, a family of safe, expandable, yet simple to use storage arrays. Drobos are designed to protect your important data forever. Visit www.drobo.com to learn more.
Case Study for TWiP 119
This one will be kinder and gentler case. Back in Thailand but could be in several places. 25 yo Thai woman from Bangkok, to hospital, chief complaint facial swelling. Eats typical Thai diet (see previous episodes!) Som tum, etc fish that is not cooked. Migratory – moves around face. Not tender, but mild itchiness. For about a week, no pain. Healthy, no past med/surg history, family all fine. HIV negative, no drugs, no travel. On examination, has swelling on right side, 3-4 cm raised, little redness, firm, does not feel like fluid filled. No fever, no GI problems, no bloods. WBC up, eosinophils up.
Send your case diagnosis, questions and comments to twip@microbe.tv