Eric writes:
Hi TWiVers!
Me again, just an astronomer who has been listening to TWiV since last February. How time flies. During TWiV 731, you folks discussed the orbits of the James Webb Space Telescope and the Hubble Space Telescope. Vincent asked where the James Webb Space Telescope was heading and Brianne said, correctly, that it was going beyond Earth orbit. It will be orbiting the Sun a million miles from the Earth at the second Lagrange point (L2). This is not similar to the Hubble Space Telescope, which is in low Earth orbit so astronauts could service it from the Space Shuttle. They did this five times to install new instruments and replace broken equipment.
Here's an animation of JWST's planned orbit: https://www.youtube.com/watch?v=6cUe4oMk69E
Here's a NASA page that discusses the five Hubble servicing missions (1, 2, 3A, 3B, and 4): https://www.nasa.gov/mission_pages/hubble/servicing/index.html
All the best,
Eric
—
Eric Schulman, PhD
Sangeeta writes:
Good Morning
I'd like to thank the whole TwiV team and Dr Daniel Griffin for inspiring me to run a Covid vaccination clinic from my office. I'm a pediatrician in Texas and after many weeks of requesting, we finally received 100 doses of the Janssen vaccine. We vaccinated our high risk 18 + patients, their parents with medical conditions and educators in our community. This past week has been the most gratifying experience for my staff and me. I wouldn't have dreamt of taking this initiative were it not for Dr Griffin's pearls of wisdom- never miss an opportunity to vaccinate and never waste a dose of vaccine. It's a lot of hard work to organize a vaccine clinic from a small community office. We were all exhausted by the end of the week but well worth it. My nurses were able to get 6 doses from most vials of the Janssen vaccine so we ended up giving 116 doses!
Again, love your show. You have inspired a lot of us during these tough times. Keep up the great work.
Sangeeta Elhence, MD
Lake Lewisville Pediatrics
Steve writes:
Good afternoon Vincent, Rich and everyone at TWIV. Thank you for continuing to provide amazing insight –
I have two vaccine questions:
A student just contacted me who has had her first shot and is to get her second shot tomorrow. But she tested positive for SARS-CoV2 yesterday and is symptomatic (mildly). She approached me to ask if she should get her shot tomorrow. My feeling is to defer (as she is already forming a new immune response) but this is way outside my area….I was wondering if the braintrust of TWIV had a thought or if there was a definitive answer.
A sillier question. My wife and I each had our first Moderna at the beginning of March. She asked me a question I could not form an answer to last week: should we get our second shot in the other arm. That is, are there any localized effects (she still has a tiny bit of redness) that we want to spread around or concentrate? I am guessing it does not matter, but then again I work on viruses that make the oceans go, not the ones that make you sick.
Please keep up the amazing work!!!
sww
*********************************************
Steven W. Wilhelm, PhD
Department of Microbiology
The University of Tennessee
Shawn writes:
Hi
I am a regular TWIV listener. Much of your podcast goes way over my head, but I listen anyway. From what I hear, the progress against the virus is proceeding so much faster in the US than it is in Canada.
I live in a small city in northwestern Ontario that is in its third lockdown. We have had over 1500 cases since January 1, 2021. There are currently over 400 active cases in a population of just over 100,000. It seems obvious to me that a good portion of the population is not taking the virus seriously.
It is very difficult to remain positive. I have been an optimistic person all my life but it is very hard to essentially "live in a loop". We are not supposed to go out, to travel, to eat out, to socialize and I have adhered to that. So each day is pretty much like the day before.
It does raise my spirits to hear, on your podcast, that other areas are doing better now. I just wonder when that progress will make its way here. Our medical officer of health has said about our area that "the virus has taken on a life of its own" and "assume it's everywhere"…. so, it's not good here.
If I had my life to live over, I would certainly pursue microbiology with focus on virology. But at 72, that's not an option. Just hope I am alive at the end of it all.
No question. Just needed to vent.
Shawn
Thunder Bay, ON Canada
Vanessa writes:
Hello TWiV team:
I heard on episode #731 that dog-walking while listening to TWiV is a common thing. That's actually what got me through the quarantine last year, and I definitely enjoyed my long dog walks during the summer while listening to TWiV (and my favorite podcast, TWiEvo). I heard Vincent say it was too bad that the dogs aren't getting educated as well. I will say, at home, I listen out loud on my computer, and the joke is that our dog, Mila, loves it too. I have proof! The living room futon is her least favorite place to spend her time, and she tends to avoid being around me while I work from home because she resents every minute I'm home and not paying attention to her. However, she almost always comes over to the living room and takes her naps on the futon whenever I'm listening to TWiV and TWiEvo. It's become a running joke that she loves "mommy's science podcasts." So, there's at least one dog getting educated as well!
Thanks for everything you do to keep us all educated on this topic!
-Vanessa
Pittsburgh, PA
currently 34F (feels like 28F); 1C (feels like -2C)
Scott writes:
Last episode (731) you received an email about a picture of the wrong Vincent appearing on the vehicle screen playing TWiV. I almost emailed you several months ago about this; see below photo I took from TWiV 664.
Alan appears to have been right. I believe this is the actor/director Vincent Gallo.
This mislabeling is a recurrent issue on my Toyota. Newer artists are shown as older ones. Jackson Wang is shown as the Jackson Five. Charlie Puth is shown as Charlie Parker. Clairo is shown as Charo.
Best,
Scott, Madison, WI
JRJA writes:
Hi Twivers.
In response to Suzanne's email on TwiV 731, Alan had it right: the actor and director Vincent Gallo. Here's the stock photo that seems to be showing in her car.
No real idea what's happening, but I'm guessing that name was the closest match to "Vincent Racaniello" that the automated system found. As my first programming teacher told me way back in the early '80s: the computer is stupid. The rise of AI has done nothing to change this fundamental fact.
—
JRJA
Amanda writes:
Hello tremendous TWIV team!
As a New Zealander who has lived in the US for over 30 years now, I've watched enviously as my friends in NZ go about daily life while we have been locked down here. I thought you might be interested in this article in the Washington Post this week, which offers some insight into one of the reasons the COVID response has been so successful in New Zealand:
https://www.washingtonpost.com/opinions/2021/03/11/new-zealand-covid-19-maori-indigenous-manaakitanga/
Unlike the "rugged individualism" that is a key component of the self-image of so many in the US, in New Zealand, every school child is taught about Manaakitanga, or the power of the collective – key to Maori culture. Others have importance equal to, if not greater than, yourself and "your freedom as an individual is only as strong as your place in the community."
On another topic – I was relieved to hear about the TWIV listener with the odd photo for her car's podcast image – I thought it was just my car going rogue. I thought you might be amused to see my car's idea of you all: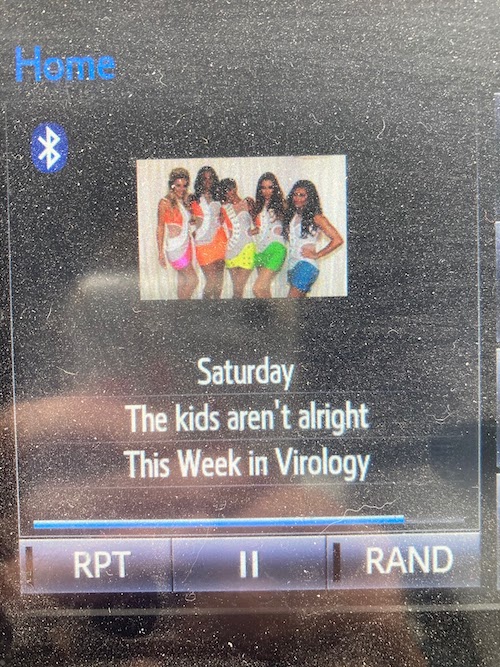 Looks like you're all now Social Media Influencers or some such.
Many thanks for keeping me sane this last year,
Amanda
Tom writes:
I have been listening to the TWIV podcast since last April. I am a district school administrator for a large school corporation in the Midwest. Among my many responsibilities, I am responsible for our COVID-19 policy and response including being the chair of our decision making task force.
My group conducts contact tracing, administers rapid tests on staff and makes recommendations about the degree to which we have In person education. This responsibility monopolizes the majority of my time.
We are guided by science, including a group of physicians that have treated COVID 19 patients, our local health department and scientists from our local colleges.
I cannot tell you how difficult these decisions are. We have well over 15,000 students and 2,000 employees. The decisions we make will impact their livelihood and possibly their life. School corporations all over the country are saddled with these painstaking decisions
Your show has been a godsend to me. I listen to every podcast. I don't understand everything but in large part you have guided aspects of my decision making. You have had a profound impact. I cannot thank you enough.
In episode 731 The Kids Aren't Alright you delved into my world. I appreciated the conversation. One thing that you must know is that there is a real emotional impact on children and COVID 19 has magnified an ongoing crisis in student mental health. COVID-19 has been like adding gas to this fire. The lack of socializing has caused huge problems. Suicidal ideation and suicide attempts have increased significantly among our student population across the country. When wrestling with the return to school, weighing the danger of the virus is paramount, but so is the mental health of our kids. This is difficult to say the least.
We would love to test students but monetary and human resources are not available.
Recently I saw this preprint and would like for you to discuss it and any relevance with school
https://www.medrxiv.org/content/10.1101/2021.02.28.21252608v1
PS Have you thought about TWIV the movie. One word BLOCKBUSTER. I was thinking of actors and actresses to play the part (BTW I have only listened to the podcast and never have watched)
Vincent Christian Slater
Rich Seth Rogen (deep voice)
Brianne Jodi Foster
Alan Tom Hanks
Kathy Glenn Close
Dickson played by Dickson the only one that could pull it off.
Again thank you for all of your help.
Tom from the Midwest
Boris writes:
Dear Twiv team,
I am big fan since summer 2020. I listen to your show in Spotify every day when doing the chores or when going to work by bike. I have learned tons thanks to you.
I am a Colombian living in the Netherlands. As a good Latin, I speak everyday with my family and especially with my grandmother. We, in my family, all want her to get the vaccine and she cannot wait to get it herself. Seeing her at her almost 90 years of age being a prey of the pandemic fear and confined to her home, it has been devastating. Recently some vaccines were delivered to Colombia and my grandmother will have the chance to get her shots (2, so probably is the Pfizer or Moderna one) in the course of a month. We are worried about corruption or poor handling of the vaccine in Colombia. It is not crazy to imagine some of the shots being replaced by whatever placebo, or the storage temperature not being low enough. There are stories of people that were supposed to get the vaccine but the syringes did not have anything in it. So, we want to make sure she gets the real vaccine. I thought of ways to control for that. Would an antigen test being applied after the two vaccine shots provide confirmation that she got the real deal? If so, are there any commercially available ones that you would recommend? Also, we thought of perhaps giving her a second vaccine once they are offered by private companies in Colombia. Would a second Covid vaccine produce any adverse effects?
I really appreciate your guidance and thank you for helping fight the disinformation which is abundant in all the social media.
Kind regards,
Boris
Fredrik writes:
Dear Twiv-hosts,
Having followed and received science and comfort during a difficult pandemic I am wondering if you can provide us with your view on the possible thrombocytopenia from the AstraZeneca Adeno5 virus vector vaccine.
As there are news reports discussing Adenovirus type 5, thrombocytopenia, pegylation, heparin induced thrombocytopenia (HIT), I wonder what causes certain people to have such a reaction. Is a specific human genotype a factor in this?
https://sciencenorway.no/covid19/norwegian-experts-say-deadly-blood-clots-were-caused-by-the-astrazeneca-covid-vaccine/1830510
https://www.sciencemag.org/news/2021/03/it-s-very-special-picture-why-vaccine-safety-experts-put-brakes-astrazeneca-s-covid-19
Ruth writes:
Hi Vincent and all the fab team
It's about my First Year-aversary of listening to Twiv and thank you for keeping me and so many sane – almost! – in a tough year. Have just had my Oxford/Astra Zeneca vaccine & had the shivery shakes for 48 hours & am now ok.
Anyway, just thought you'd like EVERYONE to know that 100M year old dormant microbes tucked up in the deep seabed are now up and out of the sea floor and doing fine and dandy, and they're eating and growing! I do hope they are held securely as we can do without more microbial excitement for a decade or two …
Here's the great story!
https://www.scientificamerican.com/article/100-million-year-old-seafloor-sediment-bacteria-have-been-resuscitated/
Ruth
Iradis writes:
Hi TWiV team,
Came across a highly interesting NYT article regarding Linda Zall, civil & environmental engineer, turned science spy for the CIA from 1985-2013 and her program was called Medea (yes, named after the stubborn Greek goddess!).
Maybe y'all have heard of her but I had not until reading this piece. Very fascinating!
Link from NYTimes below. https://www.nytimes.com/2021/01/05/science/linda-zall-cia.html?