Victoria writes:
Dear TWiV,
Your podcast is the single best educational resource of the COVID-19 era. I say that as "just" a researcher and evaluator of STEM education programs in universities and museums. Listening to your critiques of studies, your guest interviews, and even your banter has helped me become a more savvy consumer of information related to this pandemic. Arguably, that is a key purpose of science education in general: to empower people to reason about and seek coherence in the science "information" from news headlines, twitter memes, and dinner table conversations.
A friend of mine recently challenged me with an opinion about transmission that I can't quite reconcile. First of all, let me contextualize this by saying that we both whole-heartedly support the Black Lives Matter movement and protests. My friend says that there was no increase in infection due to the Black Lives Matter protests. Not everyone was wearing a mask at these events, nor were individuals staying six feet apart. In his mind this suggests that it's okay for people to be socializing outside without masks or a full six feet of distancing. Are there any actual studies investigating a connection between the protests and infection rates? Hasn't contact tracing produced examples of outdoor dinner parties and open air raves that spread the virus? From your perspectives, what is the difference between protests and outdoor parties vis-à-vis SARS-CoV-2 transmission?
Thanks for all you do.
Best regards,
–Victoria
John writes:
I can't thank you enough for your incredibly well done TWiV podcasts. You have a small legion of followers here in Lander Wyoming. Those include physicians, nurse practitioners and non-medical fans from the National Outdoor Leadership School (NOLS). The Michael Mina episode was just fantastic. Everyone that listens got so excited about the possibilities of cheap, fast, lower sensitivity testing for infectivity. We wrote to our elected officials and have been eagerly waiting, hoping that the fact Dr. Fauci and the FDA are aware of Mina's counterintuitive approach will speed up delivery of a spit and read test. The Yale's saliva direct is a step in the right direction but will be too sensitive. Touted as cheap, it won't be unless the lab or hospital that runs this test is part of your own organization. Schools will need an on site spit test that is CLIA waived. Much faster and it won't bring up as many HIPAA problems as a send out. Plus it will get the kids or workers back faster. Spit negative two consecutive days vs rigid 10 isolation.
Keep up the great work.
John Klinkenborg MD (retired)
Bill Tramontano writes:
Thanks for the Jesuit plug on TWIV. Fauci is a double Jesuit, Regis High School followed by Holy Cross.
Erynne writes:
Hello TWiV team!
Long time listener, multiple times corresponder.
I was listening to TWiV 654 where Daniel Griffin was doing his clinical updates of the week. He mentioned that his hospital network was buying many Abbott ID now platforms and was in negotiations with the BD people for their rapid antigen tests, and that the technology already exists and to go forth and get them. I am 100% on board with that plan!
I teach at the local junior college and we start on August 24th. We are mostly remote this semester with some upper level science labs still happening on campus as well as some of our nursing program skills labs happening in person. Ever since the Michael Mina TWiV I, like you, have been clamoring to get our testing for faculty, staff, and students who are going to be on campus this fall. In TeTrIs we believe! (Testing, tracing, isolating.)
Herein lies the reality of our situation though, and I suspect many others situation as well. While we have in hand a CLiA waiver license, we can't get any testing platforms. We tried to buy Abbott ID Now systems; there are none to be had. We tried to buy the BD tests. And while the people at BD themselves were responsive; we can't get any of the distributors to even send us a response to our numerous inquiries. I finally was able to get someone from Quidel (Sofia antigen test) to "schedule a call for me" but that won't happen until late this week. We even tried to buy RT-PCR machines on eBay as I know Brianne was able to find an Elispot machine on there from a previous TWiV. There are none there either. In desperation I even tried to contact the makers of the large and wildly expensive machines like the Cepheid XPress platform.
Nothing.
Silence.
I know BD currently has capability to manufacture only 2 million test kits per month and I know they are ramping up. But in the meantime, it seems like there are no tests for little peons like us. Our testing turnaround at the commercial labs is still so long that it is worthless to send students and faculty there. Our cases continue to increase and our county currently only has 2 adult ICU beds available. That is 2 adult ICU beds… in the whole county.
This whole experience fills me with dread for what is going to happen in our county as schools open for in person instruction which is being discussed even still.
The bright spot in all this is that TWiV continues to be there as a center of science and conversation that doesn't just depress me. Perhaps when all this is said and done I can come run some plaque assays in Vincent's lab, or learn some of the advanced flow cytometry experiments in Brianne's lab.
Stay grumpy,
__________
Erynn Lucas, PhD
Microbiology Instructor
Modesto Junior College
Sangeeta writes:
Good Morning
As always, an excellent Sunday morning episode 654- my companion on my early morning walks in this Texas summer.
As a pediatrician, I share my frustration with your listener on the school board who talked about the testing issues and school reopening. He is correct that not only is the FDA a hurdle but most of the physician community is not on board with the changing paradigm on testing.
Here is an update by the American Academy of Pediatrics (COVID-19 Testing Guidance) from August 13th:
'Most CLIA-waived rapid tests have limited specificity and sensitivity and may require follow-up testing. In general, antigen (rapid) tests are not recommended for routine clinical care, although rapid tests may have utility for population-based surveillance.'
While I agree that rapid tests can be useful for surveillance (and not diagnosis) but stating that these tests have limited sensitivity and specificity, turns physicians and public away.
Also, the testing Czar, Dr Brett Giroir has shut down calls for cheaper rapid tests calling them 'catastrophic.' He doesn't believe in expanding testing and feels we are doing more than enough! I have written to our state governor and senators but got a standard reply without much substance.
Despite these hurdles, I've referred a lot of colleagues and patients to Dr Mina's work and hope the public pressure and experts will help push the NIH or CDC to accept these cheap rapid tests and distribute them widely (FDA will probably not do that).
Thank you again for being excellent teachers and scientists in this pandemic of misinformation.
-Sangeeta Elhence, MD
Richard writes:
Kia Ora from New Zealand TWIV-stars,
You guys are just awesome, seriously, the shows are so informative and yet presented in a familiar, relaxed and jovial manner, interspersed only rarely by some very humorous Racin-yellin' and Dickson trying to shift the conversation towards fishing. My dog also loves you guys, albeit indirectly, by the fact that I walk her for the full duration of each edition, which are regularly 2+ hours. Only slight downside is my partner suspects I'm having an affair – she can't comprehend why anyone would walk around in the dark in close to zero degree temperatures listening to scientists talking about viruses (she announces this with a straight face whilst glancing up from her tabloid newspaper covering famous nobodies and Covid mis-information).
As you're aware, we've recently had an outbreak here in the 'Land of the long white cloud' (Aotearoa New Zealand), after more than three months of no known community transmission, leading-to a shutdown of the largest city (Auckland).
For the initial outbreak back in March, New Zealand went really hard and early with a full lockdown (Level 4), including shutting the borders to all except citizens arriving back from overseas (with a compulsory two week quarantine). I think New Zealand has fairly received global recognition for getting on top of SARS-COV-2 along with a few others, but I think being an island literally in the middle of the ocean and with a low density population (less than 5 million in an area larger than the UK with its 65 million inhabitants), has played a significant role. On the face of it, high praise should be directed to the likes of Vietnam with its 95 million inhabitants and 1,000-mile border with China, and only a handful of cases and not a single death.
The most probable source of the recent outbreak is from the quarantine of returning overseas citizens. I'm generally not a big fan of the media, but it was in this case largely down to some determined investigative journalists here [were] highlighting the poor practices with the government quarantine system that forced the situation to be dramatically improved (there were instances of people 12 or 13 days into their two week lockdown able to mix freely with those just starting their quarantine period after arriving in the country, and plenty of people were released before the results of their testing was known or tests were missed.
Things seem better now, but there are regular instances of people escaping the quarantine or others breaking into the quarantine facilities (yeah, we have our fair share of idiots on this side of the Pacific). Even now though, I think we are far from doing the best we could, if only the Director General of Health or Health Minister were TWIV listeners, how things might be different. For instance, use of masks is 'encouraged', but not compulsory, and the testing regime is well below par. Forget about Michael Mina's proposed approach and the rapid point-of-care testing that has been instigated as described by Daniel Griffin (TWIV 654), just doing a decent number of non-rapid PCR tests would be a good start. Following the recent outbreak around 20 or 30 thousand swabs were taken (the actual number of test results has not been reported), but these swabs had to be sent to different testing facilities across the country to deal with the high number, so if we were to experience several concurrent clusters in different locations, I suspect the non-rapid testing capacity would be rapidly overwhelmed. The government keeps telling us they had been planning for a possible further outbreak, but clearly, ramping up testing ability slipped through that net.
Like you all, I'm an 'ologist', but I'm just the 'Geo' type, so when I started listening to TWIV back in April, I knew virtually nothing about viruses or immunology (although I did very much enjoy working as a lab technician processing blood donations as a summer student many years ago, so got to understand about blood types and the common viruses we were testing for). Having listened to Vincent's fantastic virology lectures, I probably now know more about viruses than most of the general population (as suggested by Vincent in Lecture 1, and I didn't have to pay $60,000 tuition fees!). As with many professions / disciplines, I find the more you learn, the more you discover there is to know, and with virology and immunology, the more you understand, the greater the interest. So yeah, I'm hooked on TWIV.
I have one question and if I may, one suggestion / request for a future TWIV.
Question: One of the TWIVs I believe described how a vaccine-candidate must have a minimum efficacy of 50% to be approved / licensed by the FDA. Whilst perhaps not great at an individual, clinical level, presumably that is the level considered necessary to achieve some degree of 'herd immunity' if taken by most of the population, particularly if 10 or perhaps 20% of people have some level of short-term immunity following natural infection? But what if the early candidate vaccines are less than 50%? Like the Mina approach to testing accuracy, could a lower efficacy vaccine work – as Dr Fauci said, 'don't let the perfect be the enemy of the good'. With absolute zero scientific theory or mathematical modelling to back up my hunch ("I'm just talking here", I think Rich Condit would phrase it), I can imagine that a vaccine with even 30% efficacy might reduce transmission sufficiently such that any new outbreaks / clusters could rapidly be identified and effectively shut-down. If a vaccine with 30% efficacy could be available even a few months sooner than a better vaccine, why wouldn't this be adopted? I seem to recall from a TWIV or Immune episode that taking one vaccine is unlikely to prevent you taking a second, better vaccine, when it becomes available.
Suggestion: Last weekend I spent two days building a fence at the bottom of the garden (don't worry, I'm not trying to get you back onto a TWIG episode). Not a particularly exciting task but it was a great opportunity to put my headphones on and listen [I listened recently] to back-to-back TWiEVO episodes dating from the first one on SARS-COV-2 (episodes 52 to 58 I think). It was fantastic to listen to your conversations spread over six months and how understanding of the virus and disease has developed in that time. I wondered if now, six months into this pandemic, would be a good time for the TWIV-stars to contemplate how this pandemic has unravelled – what your thoughts were back in late-January / early-February watching the number of cases rise in China and wondering if it would spread wider, how deadly it would be (IFR) and how transmittable, how much of the world would be affected and the specific topics that have arisen (use of masks, rapid testing, re-opening schools, all eggs in the spike basket and so on). In my ignorance back in March, when I read a modelling paper released by Imperial College, it was all about 'flattening the curve' to keep the health systems functioning, and I think in most places around the world, that has been achieved, but hell, there's a lot more to it than that. I'd love to hear your perspectives on how you thought this would play out and what have been the big moments along the way (condense about 100 hours of TWIV into a few minutes) and what will be the next big shift – widespread adoption of rapid testing, release of the first licensed vaccines, a big surge in cases as schools reopen? For me, there was the before TWIV 640 with Michael Mina and after.
Keep it up guys and stay safe.
Richard Phillips | Engineering Geologist
Sam writes:
Hi, TWiV Team,
The recent discussions of whether school children can transmit Covid brought to mind this quote from Dr. Benjamin Spock (the pediatrician, not the Vulcan):
"There are only two things a child will share willingly: communicable diseases and its mother's age."
Keep up the good work!
Sam
Barry writes:
A two for one deal.
A question and a limerick…
New Zealand was virus free
It came back suddenly
This thing came from bats
Could it now be in cats?
Plausible hypothesisee?
Barry
(TWiVering with excitement!)
Katie writes:
Dear TWIV!
I am a non-scientist but loyal listener of TWIV since the onset of the pandemic. I enjoy the political impartiality of your podcast and the focus on a scientific, evidence-based approach to your discussions regarding COVID-19. I am also a high school teacher who will imminently be returning to school in a hybrid model.
While I feel fortunate to be a Massachusetts resident, I wonder about the state's initial fall re-opening guide as communicated by the Department of Elementary and Secondary Education (DESE). In their plan, they cite many studies that show that school children do not transmit COVID-19 and a return to school is a very low-risk activity. However, on your podcast, I've heard that schools are petri dishes for infectious diseases. Further, there are almost daily reports inThe New York Times about schools or universities being forced to close after mere days of re-opening due the positive test results of teachers and students for COVID-19 (e.g. in Georgia or more recently at UNC). Additionally, many news outlets have reported studies that appear contradictory to those presented in the Massachusetts DESE Guide from countries such as Israel and South Korea — and even Denmark — studies that suggest that transmission can occur in schools and teenagers are likely able to transmit the virus as adults do.
Can you weigh in on this from a purely risk-based perspective? How do I know if it's safe to return to the classroom, and how might I gauge the reliability of studies on this topic?
Thank you!
Katie
Kip & Laura write:
K.P., Pharm.D., DDS
L.P., Pharm. D.
Two front-line TWIV ambassadors/TWIV supporters from San Francisco.
"In reality, it's very difficult to find simple solutions to complicated problems. . . "
(From the book, "Contagion.")
Bye, for now.
Kip & Laura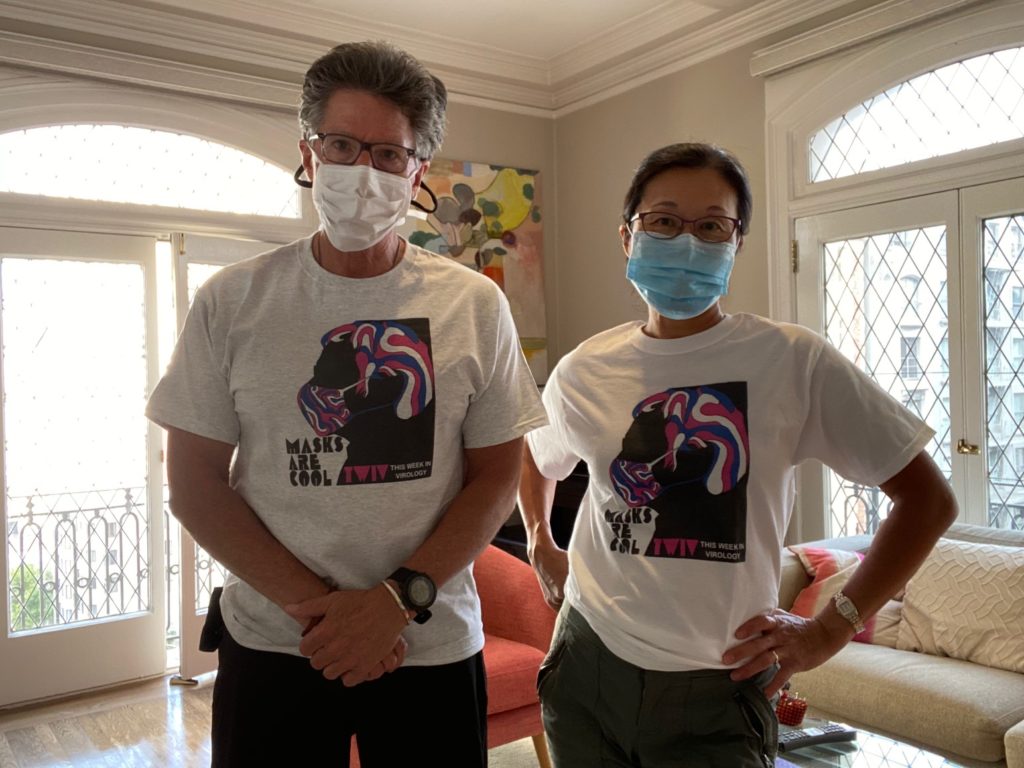 Nancy writes:
Dear TWIV Team –
I have been a listener since early April, and appreciate your thoughtful, critical and compassionate discussions about understanding and living with viruses.
I hope that you can provide guidance on an issue that is a topic of concern and debate among my hiking buddies.
Although outdoor recreation organizations and groups have developed their own rules for conducting hikes (no carpooling to the trailhead, wearing masks and keeping physically-distanced on the trail), there has been no specific state guidance as to correct hiking procedures. Hence, one sees a variety of behaviors when hiking: some hikers and runners wear masks all the time; some pull up a mask when approaching others; some step aside to let others pass; and of course, there are hikers and runners who don't wear masks, don't try to distance themselves and continue down the middle of the trail.
Now, I assume that since we are outdoors and contact is brief that the risk of viral transmission is low, assuming that the oncoming hiker or runner does not cough or sneeze as they pass. However, because many trails are narrow it is often impossible to distance oneself six feet from another hiker or because no shoulder exists, impossible to step off the trail and give oneself a little more distance. So, perhaps the risk of viral transmission increases slightly. If the oncoming hikers or runners are breathing heavily or talking loudly, or if you pass in close proximity to 30+ people (which is often the case on some of the popular hiking trails), does the risk increase, but again, perhaps not by very much?
Is the value of masking and keeping physically-distanced in these brief outdoor encounters less about transmission and more about the acknowledgment of a social contract? That is, by conducting oneself in a certain way, are you signaling your concern and consideration for others in the community? Or, perhaps it is best to follow distancing and masking guidelines in ALL circumstances instead of relying on one's judgement as to when it is or is not appropriate to do so?
I look forward to hearing your views on this topic, and will share your feedback with the different outdoor organizations and parks departments in the area.
Thank you for your good work.
Nancy
Portland, OR
Petter writes:
Heya
Love the shows. Thank you so much for your sanity in a fubar world.
1. I'm giddy about the potential of ultraprevalent rapid testing to ultimately fully control SARS-CoV-2, possibly even globally and before any vaccine is ready. I'm thinking it's so effective that it will save not only people's lives, but also tons of money for society and any organization that applies the strategy.
So, with frustrations mounting as government officials and even MDs and everyone else are taking a long time to wrap their heads around this concept, I propose pushing it on Wall Street and Silicon Valley. Imagine Apple or Google or Walmart or some other big and well known name largely reopening their headquarters and resuming close to normal business by requiring daily testing of all employees. When this within a few weeks would prove effective, we'd have the proof of concept we need for everyone agreeing to the strategy.
2. With everyone young and old having been repeatedly taught and getting used to practice much higher degree of workplace/school/public place hygiene, is it reasonable to hope that future seasonal viruses might infect fewer people? Might this, if an effect in the short term, eventually lead to lower population immunity and subsequent cases of disease on average being more severe because people's immune systems have fewer contacts with any given group of pathogens?
Sincerely,
Petter
Norway
Justin writes:
Just because you want to one day bump into someone with twiv merch
Don writes:
Good afternoon all,
I am just an accountant trying to maneuver my way through daily life in a pandemic.
My question is "How do people justify in their own minds that holding (or attending) a wedding/reception with well over 50 guests, or choosing not to mask up, or not adhering to any of the other common sense guidelines is ok?" I know you are not psychologists, but this way of thinking really has me scratching my head (not touching my face though). We have had several large gatherings and other events in our rural county about an hour and a half west of Chicago, including graduation parties, weddings, funerals, and our confirmed case count since July 8 has exploded. But the events keep happening. I have talked with several parents of teenage kids who don't want to upset their kids or deny them of their freedom to do what kids that age do. That really makes my head itch!
I started listening back in March and feel you all have done a great job explaining very complicated stuff to us laypeople. A friend turned me on to your podcasts and I have been an avid listener since. I even took the liberty to contact my elected officials, local, state, and federal, including an email to the White House, regarding Michael Mina's interview in TWiV 640 after listening to that podcast. Just think where we would have been if this idea had caught on in March. Unfortunately, I received nothing but canned responses from a few and nothing from the others.
Keep up the great work!
Don
Mendota, IL
Tony writes:
Dear TWiV,
Do you think it's right to create SARS-CoV-2 pinatas? (See photo.) If so, what should come out of them when you hit it?
Sincerely,
Tony